SINGAPORE, November 16, 2020 – Switch, the world's first workspace on-demand platform, today announced it has launched over 2,000 workspace desks across 25 different locations in suburban and downtown areas of Singapore. This would potentially enable millions of Switch Members to easily access them using the Switch mobile application to 'Work From Anywhere' and 'Work Near Home'. The 25 locations are operated by Switch's workspace partners including leading real estate companies JustCo, Frasers Property Group, The Executive Centre and others. Owned and operated by REinvent, Asia's first PropTech Innovation Studio, Switch offers a pure on-demand, pay-per-minute service, unlike other platforms.
In addition, it was revealed that several large corporations, including Fortune Global 500 companies, are using their Switch Enterprise Account to equip their Singapore-based employees to 'Work From Anywhere' and 'Work Near Home'.
With literally only two taps on the Switch mobile phone application, users can discover and check-in at dozens of stylish and professionally managed workspaces wherever and whenever they need it. Users can pop in to do a quick video call in a professional environment, or use it as a base for the day. Similar to other on-demand apps like bike sharing and ride sharing, users pay only for the time they actually use the space. In addition, space providers may offer various complimentary amenities including WIFI, coffee, tea, and clean washrooms.
To deepen its platform and unique ability to offer workspace on-demand for Switch Members, Switch has launched a new hardware invention, the Switch Booth. Several of these Switch Booths have been deployed within nine malls of Frasers Property Retail in both suburban and downtown Singapore. The Switch Booth is a smart, quiet work booth, providing privacy and convenience. Switch Members can check-in and out using the smart door lock, enjoying a private full-size work desk, a Steelcase brand office chair, sound proofing, air ventilation, secure WIFI, electric socket, and a Bluetooth speaker. The Switch Booth comes in 1-person and 4-person versions. Switch works with building owners to ensure that the Switch Booths are cleaned and disinfected regularly according to safety requirements. Starting with an initial batch of 60 Switch Booths, Switch plans to expand the network to cover hundreds of locations in Singapore.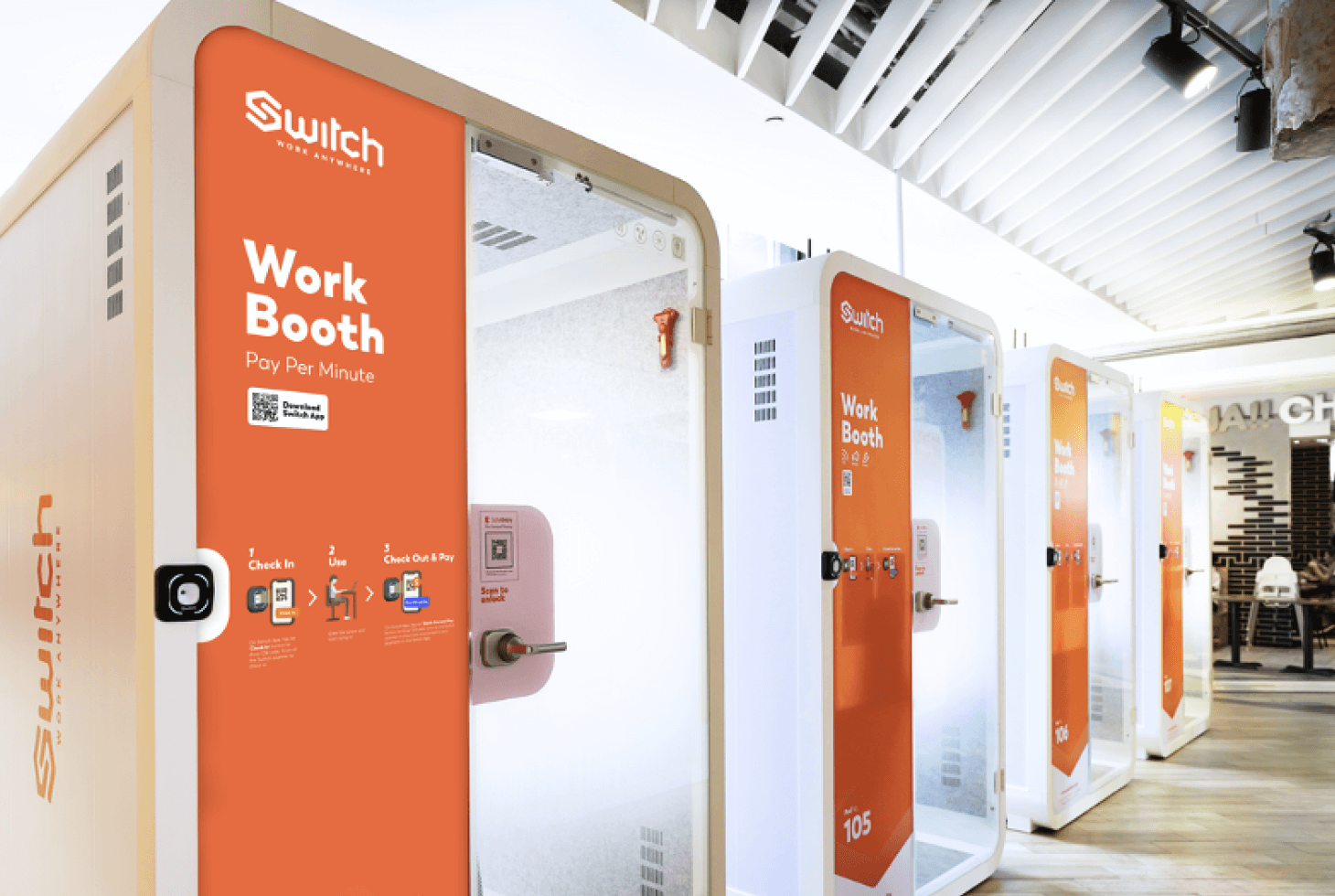 Switch Booths in a shopping mall in Singapore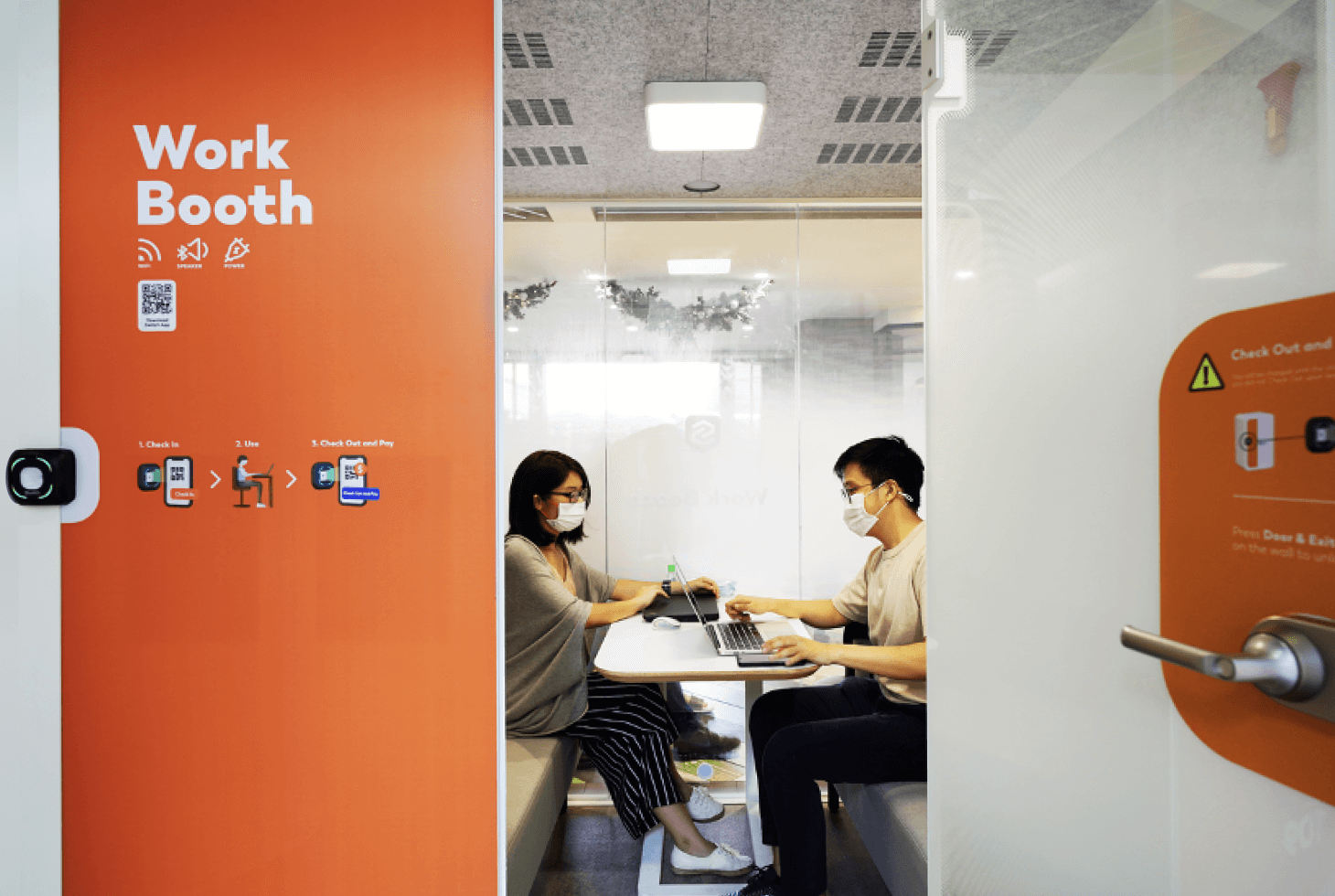 Inside a Switch Booth, 4-person model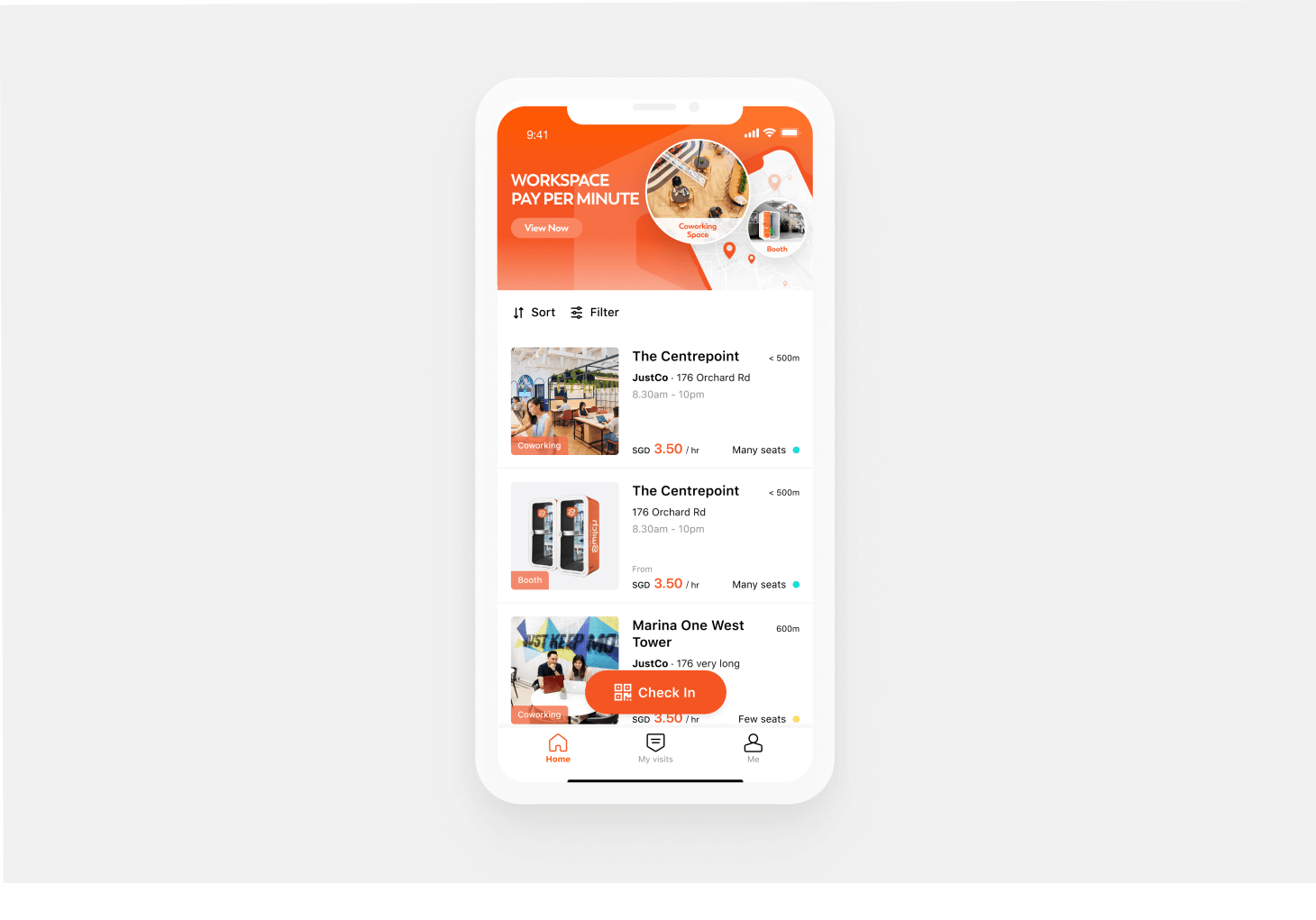 Screenshot of Switch app
"We believe the future of real estate is when people will consume it as a service. This would unlock the world's most precious asset so that more people can use it in more ways, adding a new dimension to the relationship between the landlord, tenant and non-tenant. Switch represents the next big step in this direction. For the first time, the public can consume workspace as a service from a wide network of different workspace providers and landlords. Switch is very happy to be launching today in partnership with so many major space providers and employers in Singapore," said Dominic Penaloza, the CEO of Switch's creator, REinvent, Asia's first proptech innovation studio.
"We have been exploring proptech innovation to enable us to pivot to new ways of providing workspaces outside of the home and office in order to serve the remote working community. The collaboration on Switch Booth was born out of the synergistic ideation between JustCo and Frasers Property. Reflecting a convergence of technology and real estate through today's sharing economy, the Switch Booths in our retail malls along MRT lines are ideal choices to work near home, freeing up time to travel back to the office as employees gradually return to the workplace, while offering undisturbed productivity on the go," said Uten Lohachitpitaks, Group Chief Investment Officer, Frasers Property Limited.
"The Executive Centre is excited to partner with Switch to support the needs of the modern workspace. The COVID-19 pandemic has resulted in an increasing demand for flexibility, but maintaining a safe and healthy workplace is still of paramount importance. Switch platform allows members to choose their desire workspace environment on the go by selecting their preferred location, pricing and offerings of the provider, and we are looking forward to being part of this new solution by providing Switch users with safe and healthy working environments in our coworking and dedicated work areas," said Yvonne Lim, the Managing Director - Southeast Asia of The Executive Centre, Asia's largest premium flexible workspace provider.
"JustCo is very pleased to be collaborating with Switch to make work better and develop the future of work. In particular, we appreciate that Switch has developed technologies to solve various operational concerns that have tended to block this kind of offering in the past, including knowing the real time occupancy of any given area, and virtual keycard access control," said Wan Sing Kong, the CEO and founder of JustCo, the leading coworking and flexible workspace operator in Asia Pacific.
The Switch management team comprises experienced veterans from both technology and real estate industries including WeWork, CapitaLand, Google, Microsoft, Blackboard, Autodesk, and other leading firms.
About Switch
Switch is the world's first workspace on-demand platform. Switch unlocks productivity by unlocking workspace all over the city. With two taps in the Switch app, Switch Members can check in and out of workspaces on a pay-per-minute basis. On the demand side, large corporations and individual consumers use Switch to 'Work From Anywhere' and 'Work Near Home'. On the supply side, space providers such as coworking centre, serviced office, traditional office, shopping mall, hotel and co-living operators offer four types of workspaces: hot desks, meeting rooms, private offices and smart work booths.
For more information and to get the Switch app, please visit switch.site.
About REinvent
REinvent is Asia's first innovation studio focused on technologies for the real estate industry (property technology or "proptech"). REinvent's in-house invests time and money into a repeatable process that outputs valuable companies. The goal is for every studio-born startup to become a large and profitable standalone proptech business.
REinvent's mission is to reinvent real estate using its core competencies of technology product development, business model innovation and venture building. REinvent is an in-house full-time, full-stack technology development organization: product managers, product designers, software engineers, AI engineers, and real estate operators based in offices in Shanghai, Singapore and Taipei.
For more information, please visit reinventventures.com.
About JustCo
Founded in 2011 and headquartered in Singapore, JustCo is Asia Pacific's leading premium flexible workspace provider. We continually disrupt the status quo and redefine collaborative working.
In our communities, we connect dynamic entrepreneurs, start-ups and large corporations. People are at the heart of what we do, as we create networking events and strategic partnerships for our members and partners to gain insights, collaborate, and help each other. Our passion for customer satisfaction ensures our members find the same JustCo hospitality – comfort and peace of mind – no matter where they are.
We make work better by revolutionising how people work, empowering our ever-growing community with exceptional flexibility, opportunities and experiences.
Website: http://www.justcoglobal.com
Facebook: https://www.facebook.com/JustCoGlobal
LinkedIn: https://www.linkedin.com/justcoglobal
Instagram: https://www.instagram.com/justcoglobal
YouTube: https://www.youtube.com/channel/UC9AoNevgy2yDXLyyVs3jVbw

About Frasers Property Limited
Frasers Property Limited ("Frasers Property" and together with its subsidiaries, the "Frasers Property Group" or the "Group"), is a multi-national developer-owner-operator of real estate products and services across the property value chain. Listed on the Main Board of the Singapore Exchange Securities Trading Limited ("SGX-ST") and headquartered in Singapore, the Group has total assets of approximately S$38.7 billion as at 30 September 2020.
Frasers Property's multi-national businesses operate across five asset classes, namely, residential, retail, commercial & business parks, industrial & logistics as well as hospitality. The Group has businesses in Southeast Asia, Australia, Europe and China, and its well-established hospitality business owns and/or operates serviced apartments and hotels in over 70 cities and 20 countries across Asia, Australia, Europe, the Middle East and Africa.
Frasers Property is also the sponsor of two real estate investment trusts ("REITs") and one stapled trust listed on the SGX-ST. Frasers Centrepoint Trust and Frasers Logistics & Commercial Trust are focused on retail, and industrial & commercial properties, respectively. Frasers Hospitality Trust (comprising Frasers Hospitality Real Estate Investment Trust and Frasers Hospitality Business Trust) is a stapled trust focused on hospitality properties. In addition, the Group has two REITs listed on the Stock Exchange of Thailand. Frasers Property (Thailand) Public Company Limited is the sponsor of Frasers Property Thailand Industrial Freehold & Leasehold REIT, which is focused on industrial & logistics properties in Thailand, and Golden Ventures Leasehold Real Estate Investment Trust, which is focused on commercial properties.
The Group is unified by its commitment to deliver enriching and memorable experiences to customers and stakeholders, leveraging its people, knowledge and capabilities from across markets to deliver value in its multiple asset classes.
For more information on Frasers Property, please visit frasersproperty.com or follow us on LinkedIn.
About The Executive Centre
The Executive Centre (TEC) opened its doors in Hong Kong in 1994 and today boasts over 135+ centres in 32 cities and 14 countries. It is the third largest serviced office business in Asia.
The Executive Centre caters to ambitious professionals and industry leaders looking for more than just an office space - they are looking for a place for their organization to thrive. TEC has cultivated an environment designed for success with a global network spanning Greater China, Southeast Asia, North Asia, India, Sri Lanka, the Middle East, and Australia, with sights to go further and grow faster. Each Executive Centre offers a prestigious address with the advanced infrastructure to pre-empt, meet, and exceed the needs of its Members. Walking with Members through every milestone and achievement, The Executive Centre empowers ambitious professionals and organizations to succeed.
Privately owned and headquartered in Hong Kong, TEC provides first class Private and Shared Workspaces, Business Concierge Services, and Meeting & Conference facilities to suit any business' needs.
For more information please visit www.executivecentre.com.